On June 18, the verdant Chantilly racecourse hosts the prestigious Prix de Diane. It's a double, a parade of fillies – and a parade of hats, as visitors compete to become Miss Diane, the day's most elegant racegoer. A glamorous sporting event that had the Burgundy family reaching for its finest attire. The entire family? Well…almost…
A parade for Victoire?
One member of the family always resists the call of these horse-ridden frivolities. After seeing her mother try on a hundred and one outfits, Victoire becomes exasperated by the futility of it all and refuses to put on the colourful tulle dress and hat that has been laid out for her. Carl and Louis are already dressed and impatient to leave, but Victoire only wants to go to Chantilly for the races and thinks little of country picnics and even less of fashion parades and awards.
The Prix de Diane
Marie intervenes, leaving her frills and jewels on the dressing table. She tells her daughter that the famous prize race was founded in 1843 and that it was interrupted and displaced by war and conflict. She explains that it's reserved for 3-year-old fillies and run over 2,100 metres. The first race features the stars of tomorrow and then horses and jockeys compete in the main event for the 2017 prize. Her battle is won en route to the racecourse. It has been whispered that Victoire did watch the elegant photo shoot, from a distance. She managed to eat when a picnic was organised on the grass. She almost lost her voice cheering on the galloping fillies and she did lose one of the ballerinas she'd finally agreed to wear when jumping on the stands. She may even have smiled when the winner of the elegant Miss Diane prize was announced. But that's only a rumour, of course.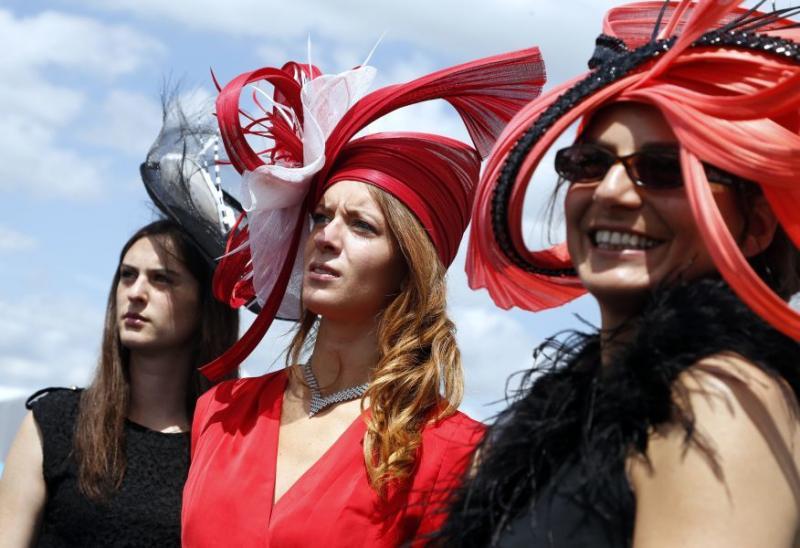 © AFP Photo / Thomas Samson
~oOo~
Hotel Burgundy Paris, a 5 star hotel in Paris, at the heart of the 1st district